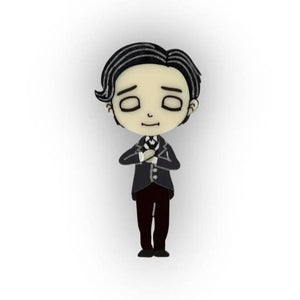 Introducing our Victor Brooch. The awkward and shy young man unintentionally finds himself married to a corpse bride after rehearsing his wedding vows in the woods. We've tried to capture his kind yet nervous nature by having him wringing his tie. 
Designed, Laser cut, and assembled with love in Australia at Daisy Jean HQ.
Dimensions:  7.2cm H / 3.5cm W
Brooch back is horizontal across his head.