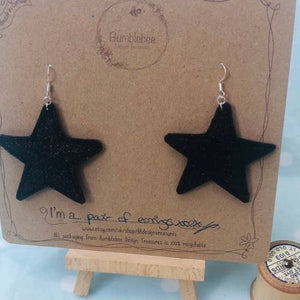 Star earrings which have been handmade to the highest standard in Cornwall, UK.
Earrings have sterling silver hooks and do come with plastic stoppers as can be seen in the photos.
About the making
Earrings are designed especially by Bumblebee Design Treasure and using materials sourced locally to her wherever possible. Each decoration has had its details carefully machine embroidered to give it this effect, due to this even though each card may look the same they differ slightly. All template designs are all hand drawn templates by Bumblebee Design Treasure. Hand picked quality materials and high quality finish ensures only the best handmade items.
Star earrings measure: 5x5cm.
Eco
All backing cards are not only made from recycled materials but also can be recycled or re-used.